Zygomatic region rotation flap following excision of a high-risk squamous cell carcinoma
Cristina Beiu

Elias Emergency University Hospital, Department of Oncologic Dermatology, Carol Davila University of Medicine and Pharmacy, Bucharest, Romania

Andrei Ludovic Porosnicu

Elias Emergency University Hospital, Department of Plastic Surgery and Reconstructive Microsurgery, Carol Davila University of Medicine and Pharmacy, Bucharest, Romania

Mara Mădălina Mihai

Elias Emergency University Hospital, Department of Oncologic Dermatology, Carol Davila University of Medicine and Pharmacy, Bucharest, Romania
Keywords:
squamous cell carcinoma, skin cancer, plastic surgery
Image Description
Cutaneous squamous-cell carcinoma (cSCC) is a common skin cancer characterized by abnormal proliferation of keratinocytes mostly due to chronic UV injury [1]. 
Depending on the risk profile of the tumor, treatment ranges from minimally invasive techniques (cryotherapy, curettage and electrodesiccation) to surgery, radiation and even chemotherapy in advanced diseases [2].
A fair-skinned 81-year-old female, with lifetime exposure to the sun during outdoor work, presented with a 5-year history of a slowly growing asymptomatic nodule on the right cheek. Physical examination revealed a hyperkeratotic tumor - measuring 2.5 cm by 3.5 cm in the greatest dimensions - with a firm consistency (Fig.1). Clinical examination did not detect cervical lymphadenopathy and imaging studies did not reveal any evidence of metastases.
Standard excision of the lesion was performed, with 7 mm peripheral margins and a local rotation flap was used for coverage of the soft-tissue defect (Fig.2-4). Histopathology findings were consistent with moderately-differentiated cSCC.
Our patient's tumor exhibits several high-risk criteria described by the National Comprehensive Cancer Network (NCCN) and the American Joint Committee on Cancer (AJCC) [3], such as location on the cheek, increased size, poorly histological differentiation.
Fortunately, despite these potential concerns, the patient has remained free from recurrence for 12 months. She will continue to attend regular follow-up visits to assess for signs of disease relapse or the occurrence of new cSCC.
References
Waldman A, Schmults C. Cutaneous Squamous Cell Carcinoma. Hematol Oncol Clin North Am. 2019;33(1):1-12.
Ruiz ES, Karia PS, Besaw R, Schmults CD. Performance of the American Joint Committee on Cancer Staging Manual, 8th Edition vs the Brigham and Women's Hospital Tumor Classification System for Cutaneous Squamous Cell Carcinoma. JAMA Dermatol. 2019;155(7):819-25.
Skulsky SL, O'Sullivan B, McArdle O, Leader M, Roche M, Conlon PJ, et al. Review of high-risk features of cutaneous squamous cell carcinoma and discrepancies between the American Joint Committee on Cancer and NCCN Clinical Practice Guidelines In Oncology. Head Neck. 2017;39(3):578-94.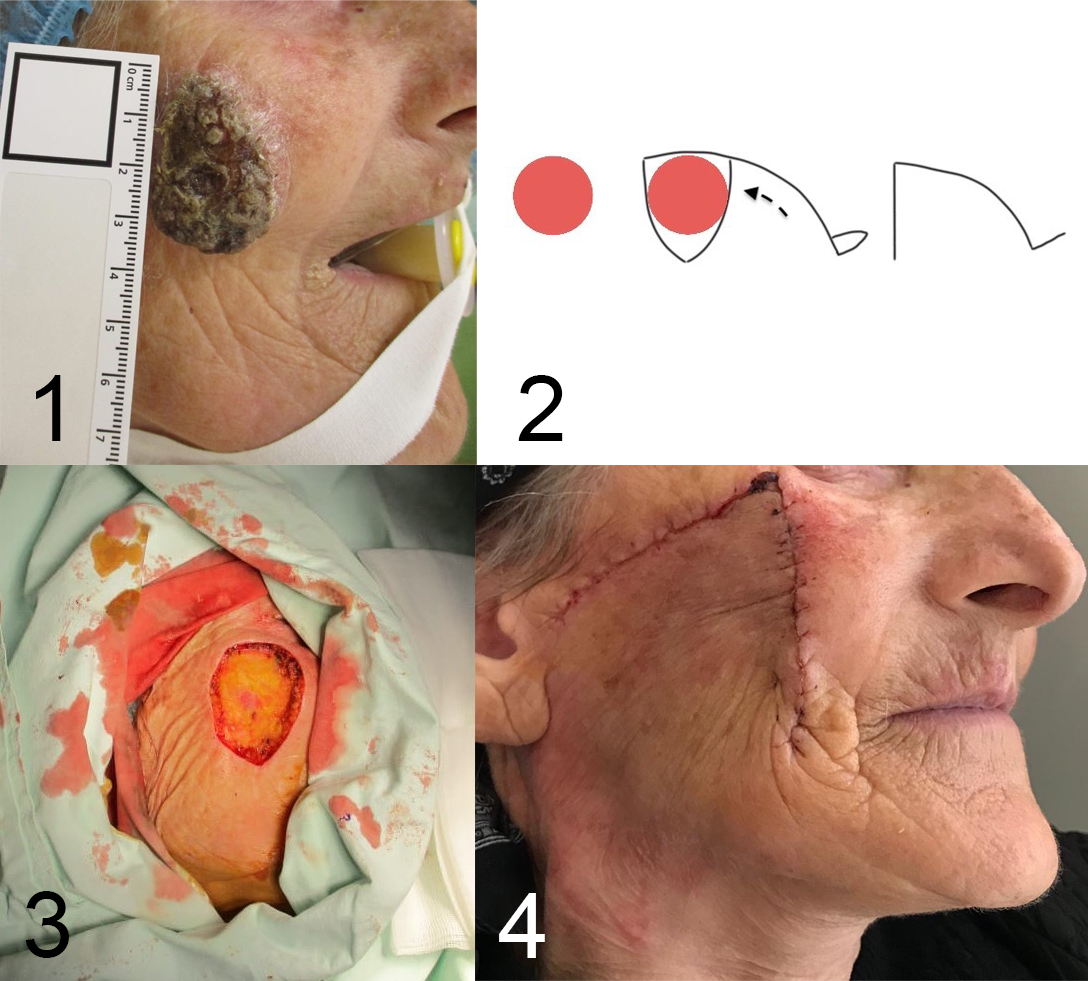 How to Cite
Beiu, C., Porosnicu, A., & Mihai, M. (2019). Zygomatic region rotation flap following excision of a high-risk squamous cell carcinoma. Medical Image Database, 2(2), 39-40. https://doi.org/10.33695/mid.v2i2.61