Dermoscopic view of vertical growth phase nodular malignant melanoma
Florica Sandru

Elias Emergency University Hospital, Carol Davila University of Medicine and Pharmacy, Bucharest, Romania

Adelina Popa

Elias Emergency University Hospital, Bucharest, Romania

Mihai Cristian Dumitrascu

Bucharest Emergency University Hospital, Carol Davila University of Medicine and Pharmacy, Bucharest, Romania
Keywords:
malignant melanoma, biopsy, dermoscopy
Image Description
Most vertical growth phase malignant melanomas (Figure 1) are clearly invasive and extend deeply into the dermis. They are associated with expansile nodule filling the papillary dermis and/or invasion of reticular dermis or fat, features that correspond to the Clark levels III-V [1]. Some level Clark II lesions can qualify as vertical growth phase lesions if a dermal nest is larger than the largest epidermal nest, or there is at least one mitosis in the dermis.
When a melanoma enters the vertical growth phase, it possesses the potential for metastasis. The definition says that a vertical growth phase melanoma has at least one dermal mitosis or one dermal nest larger than the largest epidermal nest. These features are the earliest histopathological evidence of progression from a non-metastatic to a probably metastatic lesion.
There are two ways that melanoma can arise in the vertical growth phase: de novo or from a radial growth phase melanoma. It may take decades for some melanomas to develop the vertical growth phase, while others reach an early vertical growth phase. The probability of metastases with invasive, vertical growth phase melanoma can be predicted measuring in mm the depth of invasion of the vertical growth phase nodule below the granular cell layer of the overlying epidermis-Breslow index [2].
References
Clark WH Jr, From L, Bernardino EA, Mihm MC. The histogenesis and biologic behaviour of primary human malignant melanomas of the skin. Cancer Res 1969; 29:705.
Breslow A. Thickness, cross-sectional areas and depth of invasion in the prognosis of cutaneous melanoma. Ann Surg 1970; 172:902.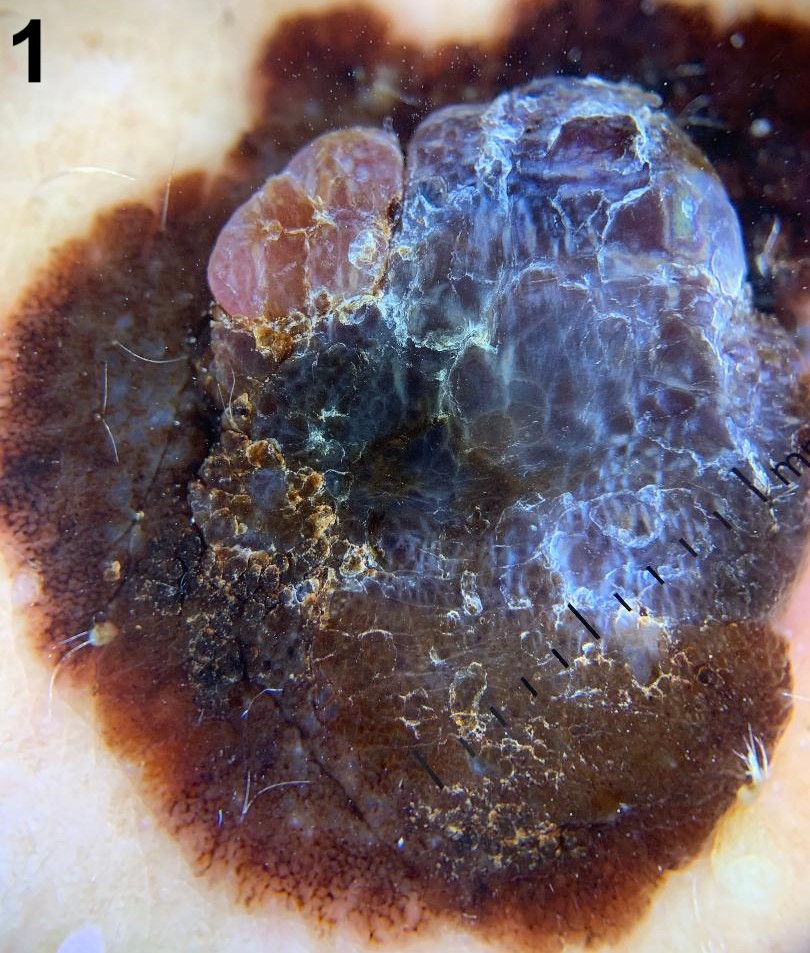 How to Cite
Sandru, F., Popa, A., & Dumitrascu, M. C. (2019). Dermoscopic view of vertical growth phase nodular malignant melanoma. Medical Image Database, 2(2), 35-36. https://doi.org/10.33695/mid.v2i2.56