Diagnostic difficulties in a patient with Zenker diverticulum
Rodica Birla

Carol Davila University of Medicine and Pharmacy; Bucharest, Romania

Cristian Marica

Carol Davila University of Medicine and Pharmacy; Bucharest, Romania

Silviu Constantinoiu

Carol Davila University of Medicine and Pharmacy; Bucharest, Romania
Keywords:
Zenker diverticulum, Tomography, diverticulectomy
Image Description
Oesophagal diverticulum has an incidence of less than 1% in the population, 70% occur in the cervical oesophagus and are known as Zenker diverticulum. The treatment is indicated in symptomatic patients - dysphagia being a constant symptom.
Current treatment includes minimally invasive transoral technics for septum dividing between diverticulum and oesophagus, either with a stapler or via interventional endoscopy, as well as the open technique: diverticulectomy with cervical cricopharyngomyotomy - for large diverticulums.
We present the case of a 74-yo patient, with dysphagia, regurgitation, and weight loss with progressive 2-year evolution. Ambulatory thyroid ultrasonography raised suspicion of a Zenker diverticulum and he was referred to gastroenterology service, where UGI endoscopy have not revealed oesophagal pathology and recommends cervical CT: a voluminous diverticulosis pouch in contact with the left sternocleidomastoid muscle with food remnants. (Figure A)
She is admitted to hospital for further investigations. Barium swallow: an oval round image in the cervical region, approximately the size of 3 cervical vertebrae, retentive (Figure B)
EGD: broad diverticular communication with the cervical oesophagus, voluminous diverticulum with food and barium remnants (Figure C).
A cervical approach was decided: diverticulectomy with a TA 55 mm stapler (Figure D), the stapling line was reinforced by another polyglycolic 3-0 seromuscular running suture and cricopharyngeal myotomy (Figure E)
The postoperative evolution was unremarkable.
The low incidence of this disease and the actual management controversy are recommendations for the treatment of patients in clinics with experience in oesophagal surgery.
References
Law R, Katzka DA, Baron TH. Zenker's Diverticulum. Clin Gastroenterol Hepatol. 2014 Nov;12(11):1773-82;
Débora V. Albers, André Kondo, Wanderley M. Bernardo, Paulo Sakai, Renata Nobre Moura, Gustavo Luis Rodela Silva, Edson Ide, Toshiro Tomishige, Eduardo G. H. de Moura Endoscopic versus surgical approach in the treatment of Zenker's diverticulum: systematic review and meta-analysis Endosc Int Open. 2016 Jun; 4(6): E678–E686.
Shahawy S, Janisiewicz AM, Annino D, Shapiro J A comparative study of outcomes for endoscopic diverticulotomy versus external diverticulectomy. Otolaryngol Head Neck Surg. 2014 Oct;151(4):646-51.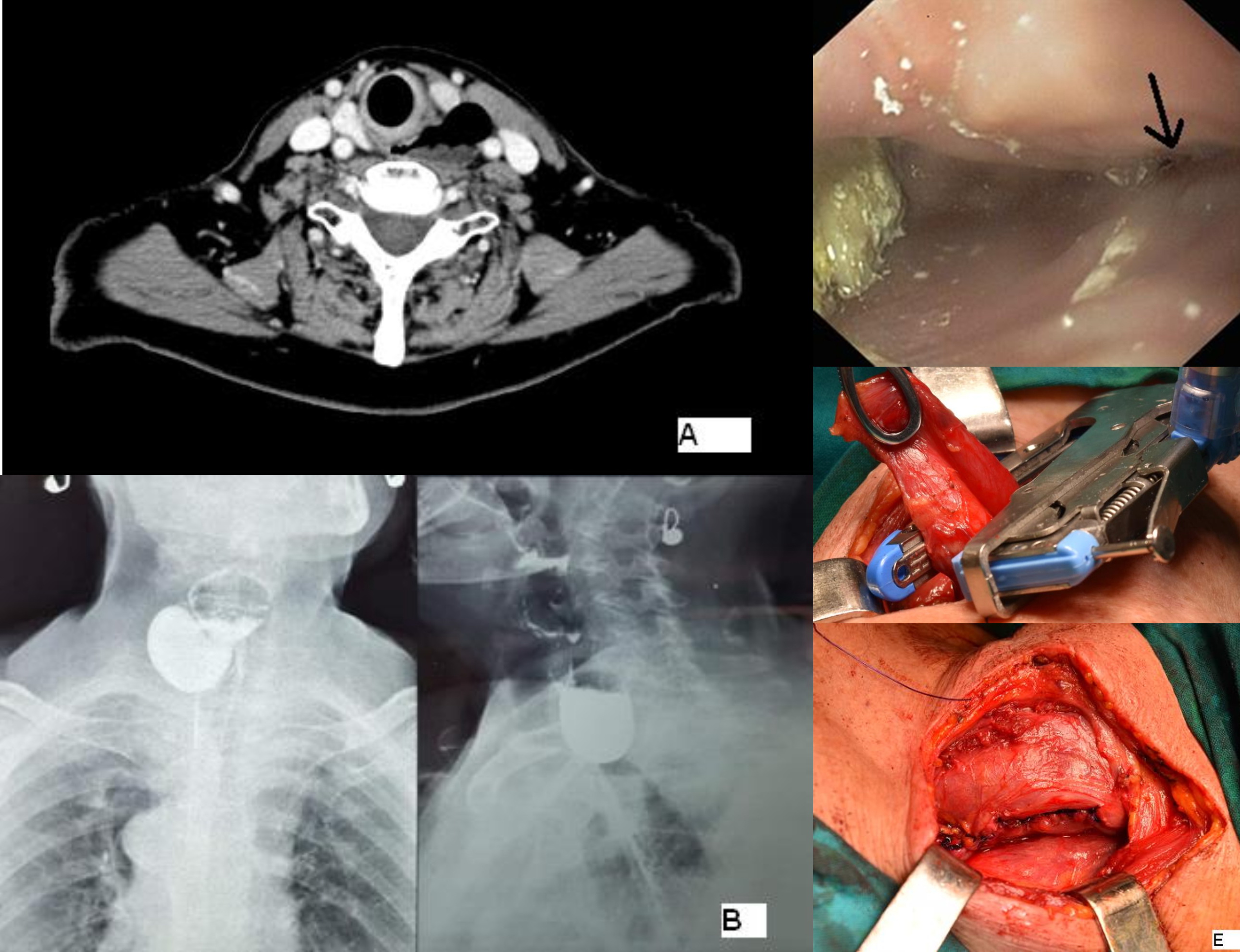 How to Cite
Birla, R., Marica, C., & Constantinoiu, S. (2019). Diagnostic difficulties in a patient with Zenker diverticulum. Medical Image Database, 2(1), 7-8. https://doi.org/10.33695/mid.v2i1.30