SPONTANEOUS PNEUMOTHORAX, PNEUMOMEDIASTINUM AND SUBCUTANEOUS EMPHYSEMA IN A COVID-19 PATIENT
CLAUDIU EDUARD NISTOR

UMF CAROL DAVILA, CENTRAL EMERGENCY UNIVERSITY MILITARY HOSPITAL DR CAROL DAVILA BUCURESTI

BOGDAN STEFAN CRETU

CAROL DAVILA UNIVERSITY OF MEDICINE AND PHARMACY , BUCHAREST; CENTRAL EMERGENCY UNIVERSITY HOSPITAL BUCHAREST

CATALIN CIRSTOIU

CAROL DAVILA UNIVERSITY OF MEDICINE AND PHARMACY , BUCHAREST; CENTRAL EMERGENCY UNIVERSITY HOSPITAL BUCHAREST
Keywords:
spontaneous pneumothorax, pneumomediastinum, subcutaneous emphysema, COVID-19
Image Description
We present the case of a 67 years old man who presented with cough and moderate shortness of breath for the last seven days. Reverse transcriptase-polymerase chain reaction (RT-PCR) was positive for COVID-19.  CT scan at admission revealed right tension pneumothorax, pneumomediastinum, and diffuse subcutaneous emphysema. The pneumothorax was drained subsequently with an intercostal drainage tube, while the subcutaneous emphysema required insertion of subcutaneous needles. The patient was shifted to the COVID-19 ICU unit and intubated, requiring inotropic support. Due to his comorbidities (diabetes, hypertension, overweight), he developed multiple organ failure and was declared dead on day 9. 
The pneumothorax, pneumomediastinum, and subcutaneous emphysema can occur in COVID-19 patients by two mechanisms: either as a consequence of the barotrauma caused by mechanical ventilation or spontaneously as a result of the Macklin effect. In this case, the chest CT scan findings were noted before any intervention was made, indicating their origin as a consequence of COVID-19 rather than an iatrogenic one.
Chronic cough and diffuse alveolar damage most likely allowed alveolar rupture, resulting in air leakage and diffusion into the adjacent structures. The Macklin effect represents air diffusion along the bronchovascular sheath to the mediastinum, allowing the development of pneumomediastinum and subcutaneous emphysema.
References
Agrawal A, Sen KK, Satapathy G, Sethi HS, Sharawat A, Reddy DS. Spontaneous pneumomediastinum, pneumothorax and subcutaneous emphysema in COVID-19 patients—a case series. The Egyptian Journal of Radiology and Nuclear Medicine. 2021;52(1):27. doi:10.1186/s43055-020-00401-0
Elhakim TS, Abdul HS, Pelaez Romero C, Rodriguez-Fuentes Y. Spontaneous pneumomediastinum, pneumothorax and subcutaneous emphysema in COVID-19 pneumonia: a rare case and literature review. BMJ Case Rep. 2020;13(12):e239489. Published 2020 Dec 12. doi:10.1136/bcr-2020-239489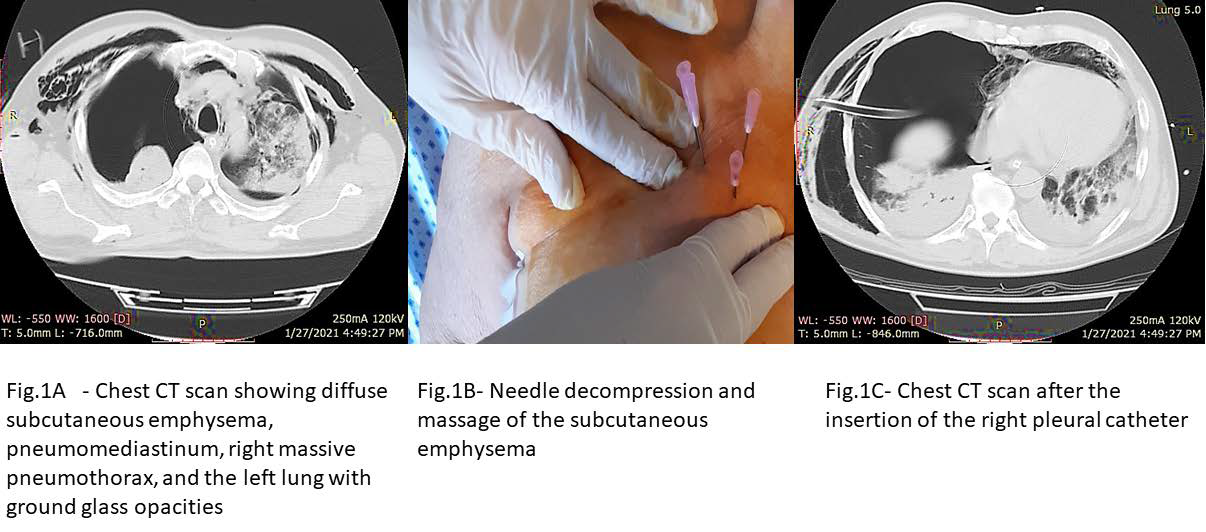 How to Cite
NISTOR, C. E., CRETU, B. S., & CIRSTOIU, C. (2023). SPONTANEOUS PNEUMOTHORAX, PNEUMOMEDIASTINUM AND SUBCUTANEOUS EMPHYSEMA IN A COVID-19 PATIENT. Medical Image Database, 5(1), 19-20. https://doi.org/10.33695/mid.v5i1.145