POVIDONE-IODINE PLEURAL AND PERICARDIAL ALLERGY IN A POLYALLERGIC PATIENT
CLAUDIU EDUARD NISTOR

UMF CAROL DAVILA, CENTRAL EMERGENCY UNIVERSITY MILITARY HOSPITAL DR CAROL DAVILA BUCURESTI

ANCA PATI CUCU

CENTRAL EMERGENCY UNIVERSITY MILITARY HOSPITAL DR CAROL DAVILA

CATALIN CIRSTOIU

CAROL DAVILA UNIVERSITY OF MEDICINE AND PHARMACY , BUCHAREST; CENTRAL EMERGENCY UNIVERSITY HOSPITAL BUCHAREST
Keywords:
povidone-iodine, allergy, pleuralhypersensitivity, pericardial
Image Description
We present the case of a 53 years old woman with a known history of hypersensitivity reaction to ACE-inhibitors and penicillin, who was admitted for a lower left lobe tumor. PET-CT scan revealed a left lower lobe mass.  Preoperative fibrobronchoscopy was normal. A left lower lobectomy was carried out. After the removal of the lobe, a pleural washing with 500 ml 9% normal saline and 25 ml 5% povidone-iodine was performed. The patient instantly developed a pleural and pericardial diffuse petechial eruption. After several pleural washings with 9% sodium chloride and IV administration of epinephrine, the allergic reaction disappeared. No cutaneous allergic reaction was noticed during the patient OR skin prep with povidone-iodine.  
This is a rare case of multiserous allergic reaction to a commonly used antiseptic, and, to our knowledge, little data is currently available in the literature on this topic. Still, it is a complication that should be taken into account in polyallergic patients.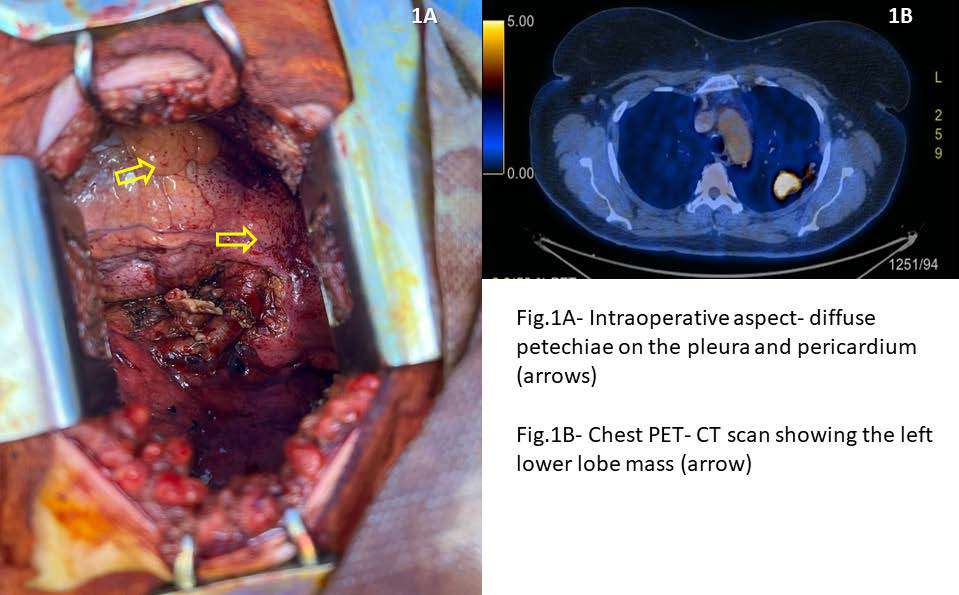 How to Cite
NISTOR, C. E., CUCU, A. P., & CIRSTOIU, C. (2023). POVIDONE-IODINE PLEURAL AND PERICARDIAL ALLERGY IN A POLYALLERGIC PATIENT. Medical Image Database, 5(1), 17-18. https://doi.org/10.33695/mid.v5i1.144