BRONCHIAL CARCINOID TUMOR OF THE RIGHT INFERIOR BRONCHUS
CLAUDIU EDUARD NISTOR

UMF CAROL DAVILA, CENTRAL EMERGENCY UNIVERSITY MILITARY HOSPITAL DR CAROL DAVILA BUCURESTI

ANCA PATI CUCU

CENTRAL EMERGENCY UNIVERSITY MILITARY HOSPITAL DR CAROL DAVILA

CATALIN CIRSTOIU

CAROL DAVILA UNIVERSITY OF MEDICINE AND PHARMACY , BUCHAREST; CENTRAL EMERGENCY UNIVERSITY HOSPITAL BUCHAREST
Keywords:
bronchial typical carcinoid, lung neuroendocrine tumors, sleeve lobecomty with bronchial anastomosis
Image Description
A 52 years-old man presented with a history of cough of 1 month and recent pneumonia. He has a 30 pack-year history of tobacco use, and he was diagnosed with neurofibromatosis type 1 at age 14. CT scan showed a mass occupying the lower part of the main right bronchus, the intermediary bronchus, and the right lower bronchus. Fibrobronchoscopy revealed a mass obstructing the right main bronchus. Virtual bronchoscopy of the same patient confirmed its extension to the right lower lobe. Intraoperative exploration found the tumoral originating in the right lower bronchus. A sleeve right lower lobectomy with anastomosis between the middle lobe bronchus and the truncus intermedius was performed. The patient was discharged on day 8.  The pathology report confirmed a typical lung carcinoid tumor. The patient was referred to the oncologist.
According to the latest WHO classification of thoracic tumors (5th edition, 2021), lung neuroendocrine neoplasms, which account for nearly 20% of all lung primary tumors,  are classified into typical carcinoid, atypical carcinoid, small cell lung carcinoma, and large cell lung carcinoma. Due to the evolution of imaging techniques, the incidence of carcinoid tumors has slightly increased over the last decades, currently representing 2% of primary lung tumors, with a predominance of typical carcinoid.
References
Rekhtman N. Lung neuroendocrine neoplasms: recent progress and persistent challenges. Mod Pathol. 2022;35(Suppl 1):36-50. doi:10.1038/s41379-021-00943-2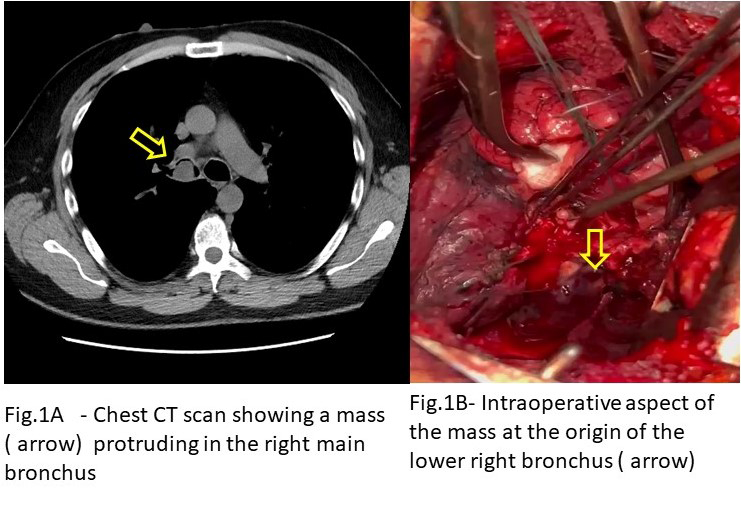 How to Cite
NISTOR, C. E., CUCU, A. P., & CIRSTOIU, C. (2023). BRONCHIAL CARCINOID TUMOR OF THE RIGHT INFERIOR BRONCHUS. Medical Image Database, 5(1), 20-21. https://doi.org/10.33695/mid.v5i1.143