VATS PLEURO-PERICARDIAL WINDOW FOR MALIGNANT PLEURO-PERICARDIAL EFFUSION
CLAUDIU EDUARD NISTOR

"Carol Davila" University of Medicine and Pharmacy, Bucharest; Central Emergency University Military Hospital Dr. Carol Davila, Bucharest

BOGDAN STEFAN CRETU

"Carol Davila" University of Medicine and Pharmacy, Bucharest; University Emergency Hospital of Bucharest, Bucharest

CATALIN CIRSTOIU

"Carol Davila" University of Medicine and Pharmacy, Bucharest; University Emergency Hospital of Bucharest, Bucharest
Keywords:
malignant pleuro-pericardial effusion, pleuro-pericardial window
Image Description
We present the case of a 58 years old woman with a known history of operated and chemotreated ovarian cancer who was admitted for shortness of breath, dyspnea, and fatigue. A CT scan revealed  bilateral pleural effusion and pericardial effusion. A left thoracocentesis was performed, and 700 mL of clear pleural fluid was evacuated. A video-assisted thoracic surgery (VATS) with pleuro-pericardial window under selective tracheal intubation was carried out allowing for the evacuation of both right pleural and pericardial fluid, followed by parietal pleural biopsy sampling. Cytological analysis of the pleural fluid and the histological report of the pleural biopsies confirmed the metastatic origin of ovarian cancer. The patient was discharged on day 7 with an indwelling catheter due to persistent drainage.
A surgical pleuro-pericardial window performed in cancer patients with concomitant pleural and pericardial effusion allows for the proper evacuation of the fluid, prevents the reaccumulation of the fluid in the pericardial cavity, alleviates their symptoms, and improves the quality of life. In case of persistent drainage, the patient can be discharged with an indwelling pleural catheter.
The particularity of the case is represented by the possibility of performing a VATS peluro-pericardial window in a patient without cardiac tamponade. If cardiac tamponade should have occurred, a subxiphoid approach would have been more appropriate. 
References
Sakanoue I, Hamakawa H, Okubo Y, et al. Efficacy and safety of thoracoscopic pericardial window in patients with pericardial effusions: a single-center case series. J Cardiothorac Surg. 2016;11(1):92. Published 2016 Jun 13. doi:10.1186/s13019-016-0488-x
Langdon SE, Seery K, Kulik A. Contemporary outcomes after pericardial window surgery: impact of operative technique. J Cardiothorac Surg. 2016;11(1):73. Published 2016 Apr 26. doi:10.1186/s13019-016-0466-3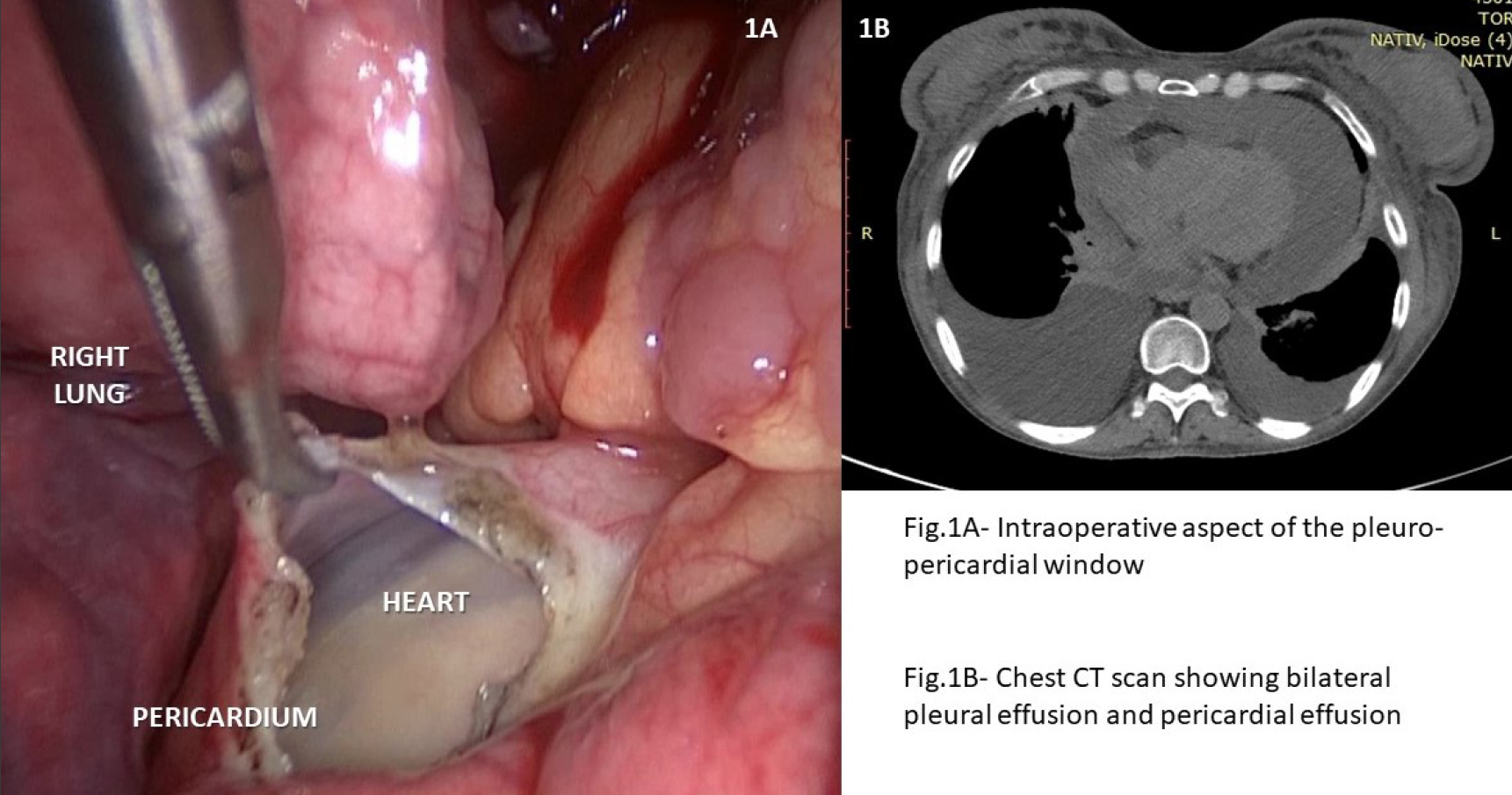 How to Cite
NISTOR, C. E., CRETU, B. S., & CIRSTOIU, C. (2023). VATS PLEURO-PERICARDIAL WINDOW FOR MALIGNANT PLEURO-PERICARDIAL EFFUSION. Medical Image Database, 5(1), 15-16. https://doi.org/10.33695/mid.v5i1.142